Enhancing programs for enrollee success.
Securus Monitoring creates electronic monitoring solutions that help reduce
recidivism and support justice-involved individuals' transition
safely back to their families and communities.
Comprehensive Electronic Monitoring Solutions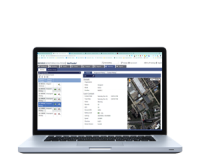 VeriTracks®, our secure web-based electronic monitoring platform provides agencies with 24/7/365 access to all of the information necessary to successfully monitor the activities of enrollees. With VeriTracks, VeriTracks Mobile, and ENROLLINK, our secure enrollee communication app, we provide around-the-clock access to all the vital enrollee information you need.

A turnkey support program for the planning, development, and implementation of a scalable electronic monitoring program. Solutions+ Programs have access to an array of electronic monitoring hardware, software, and ancillary services that make expanding the breadth and scope of a program simpler.
If you are an EXISTING CUSTOMER or if this is an urgent law enforcement or community corrections matter, please contact our 24/7/365 Solutions Center at (866) 703-7867.